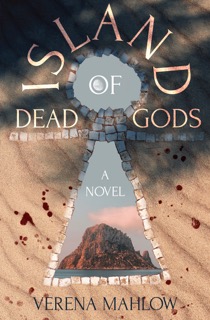 Island of Dead Gods
is a dark thriller set on Ibiza, the so-called "White Island" in the Mediterranean. The story provides insight into a little known part of history and, at the same time, deals with one of the most burning contemporary issues which the UN General Assembly calls a "pandemic of global proportions." No, I'm not writing about the Corona-virus, but about sexism in the twenty-first century. Even in parts of Western societies, gender equality is still a maligned concept, while sexist locker room talk seems to be no big deal. So how shall we deal with that? Can we turn the clock back to the times before the dilemma started?
Philine, interpreter, single mother, and bankrupt is forced to sell her one asset, her beloved cottage on Ibiza, when she runs into even more problems: her best friend has disappeared, a fire breaks out — and on top of all, Phil is confronted with Adam whom she, for good reason, never wanted to see again. The military contractor flew in from Texas to bury his sister who supposedly committed suicide on the island, though he suspects she was murdered. When connections between Adam´s dead sister, Phil´s disappeared friend and more fatalities are revealed, the two ex-lovers reluctantly collaborate. And soon enough Ibiza, known as a travelers´ dream destination, turns into a nightmare for those involved in a deep rooted crime.
"Verena Mahlow´s Island of Dead Gods combines a meticulously constructed international thriller with her extensive personal exploration of Ibiza, long a magnet for bohemians, speculators and sybarites of all nationalities. Mahlow´s intelligently devised, twisting plot includes much local color – cuisine, ancient sites, modern ambience – and diverse characters, an arcane coterie of goddess-worshipping proto-feminists and men treating themselves to easy, sleazy sex. Mahlow deftly moves these players towards an unexpected, explosive climax." – Barbara B. Scott, A Woman´s Write.
"Verena Mahlow´s brilliant new novel explores the nature of good and evil and will transport you to the small Spanish island of Ibiza. Mahlow blends mystery and myth to create a riveting page-turner. Like John Fowles´ masterpiece of psychological manipulation, The Magus, Mahlow´s Island of Dead Gods plays the godgame and will keep you guessing until the very end." – Blake Kimzey, author of Families Among Us.
See Also – http://writingworkshops.com/blogs/news/a-wide-world-and-a-new-book-by-verena-mahlow
https://www.goodreads.com/book/show/57956383-island-of-dead-gods?ac=1&from_search=true&qid=Q2eZGfjpVR&rank=1
https://readersfavorite.com/book-review/island-of-dead-gods
http://whiterocklakeweekly.com/world-traveler-calls-little-forest-hills-home/
https://www.kirkusreviews.com/book-reviews/verena-mahlow/island-of-dead-gods/
https://chicklitcafe.com/2021/11/29/island-of-dead-gods-by-verena-mahlow/